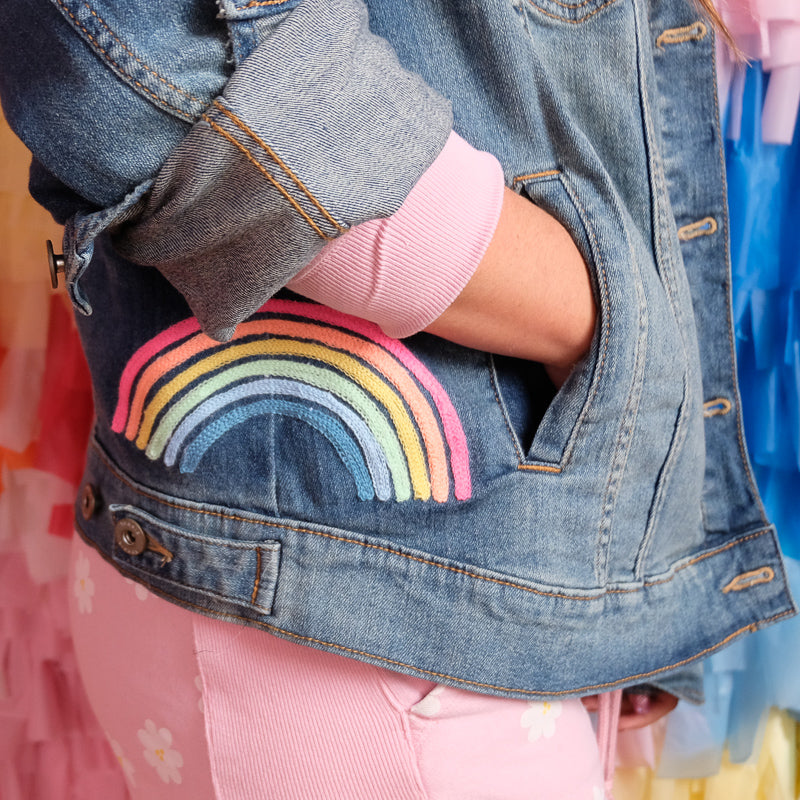 Oh hey, bestie!
Ready to create the custom jean jacket of your dreams? Let's get this party started.
Our #1 priority is to make you feel amazing in your new jacket, so let's make sure we're on the same page. Here's everything you need to know.
How it Works
1) Fill in this form with your idea, your budget, and the date you need the finished product by. Have multiple ideas? OK, creative queen – we love to see it. We can work to combine your ideas and create one special piece that you'll treasure forever.
2) Daily Disco will get back to you with a quote, and you'll kick off the project by paying your deposit. Once we've received your deposit, we'll send you our studio address so that you can ship us your jacket. Because this is a custom piece, we always recommend you send in your own jacket, so you know you'll love the fit.
3) Daily Disco will get to work and share the first mock-up for your review. Our design process includes one revision, and additional revisions are charged at an hourly design rate. Once you approve the final design, one of our awesome artists will free-hand stitch your one of a kind jacket on a vintage chainstitch machine.
4) We'll send you a snap of your beautiful new jacket once it's finished, along with your final invoice. Once paid, you can get excited for the best mail day ever!
Pricing
Custom jean jackets by Daily Disco range from $250 for simple one color text, to upwards of $1,000 for more intricate designs. There are many variables when it comes to pricing, including number of colors used, details, and size of embroidery.
Tell us a budget you'd like to stay within, and we can design the most amazing jacket in your price range!
Timeline
Creating your dream jacket takes time, but it will be so worth the wait – we promise! All Daily Disco jackets are embroidered one stitch at a time, by real people (not
computers!).The turnaround time for our jackets ranges from 4-8 weeks, depending on the waitlist at that time. We offer a rush fee if you need it sooner.
All sound good?
YAY! We can't wait to create your new favorite item in your wardrobe.
Feel free to hit us up again if you have any other questions, but in the meantime, can we just say a HUGE thank you for supporting our small business? We're seriously so grateful.
Lots of love,
The Daily Disco Team